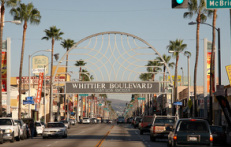 East Lost Angeles (East LA or East Los) is a Los Angeles neighborhood across the LA River from Downtown. Located just west of the San Gabriel Valley, East LA is one of the most populous neighborhoods in LA and one of the least ethnically diverse neighborhoods in the nation. 96.7% of the area's roughly 125,000 residents are Latino. The
East Los Angeles Courthouse
, part of the area's civic center, hears cases not only from East LA, but all of the non-traffic misdemeanors from Downtown LA and most of the surrounding areas.
East LA is patrolled by the LA County Sheriff, LAPD and California Highway Patrol. Crimes are prosecuted by the LA City Attorney or LA District Attorney.
Our Los Angeles Criminal Defense Lawyer office is located on Sunset Blvd at Innes Street in Echo Park. Free parking behind the building (entrance on Innes Street). Cesar Chavez Blvd Turns into Sunset, so our office is just a straight line to East Los Angeles.
East LA has higher than average crime rates for LA County, for California and the nation. Also, there is a considerable street gang presence and arrests and prosecutions for gang-related offenses are common. If you have been arrested or charged with a crime in East LA, a Los Angeles Criminal Defense Lawyer in neighboring Echo Park can help. In DUI cases, we can help you assert the defenses available (Including:
Mouth Alcohol, Rising BAC, How Accurate are Breathalyzers?, Did Police Follow Proper Testing Procedure, Do Field Sobriety Tests Prove Anything,Alcohol and Drugs are NOT the Only Causes of Bad Driving
). For theft offenses, there may be an opportunity to reach a civil compromise dismissal with merchants (often impossible with large corporate stores, but possible with East LA's small business owners). Drug crimes and weapon offenses might have viable
motions to suppress
if the police violated your rights.
This is a confusing, difficult time. If you have been arrested, charged with a crime or even cited for a traffic violation, you undoubtedly have questions about what to expect and what to do next. With a free consultation with a Los Angeles Criminal Defense Attorney, you can ask those questions and get meaningful, tailored to your case, and carefully explained answers. We will identify the best course of action, and get started working for your defense.
Contact our office now for a free consultation with a
Los Angeles Criminal Defense Lawyer
. We can discuss the details of your case, go through the possible defenses and explain the court process to you in detail. If you've been arrested or charged with a crime in East LA, Boyle Heights, Montebello, or anywhere else in Los Angeles, the Law Offices of Nicholas Loncar can help.
EXAMPLE:

Ivan, a resident of East Los Angeles, is driving home from a family gathering in nearby Lincoln Heights. He is pulled over by police and accused of running a stop sign. As the officer approaches Ivan's window, he sees a pistol-shaped torch lighter on the passenger side seat. He immediately orders Ivan out of the vehicle and handcuffed. The officer pats Ivan down, goes into his pockets and retrieves several small bags containing a white powder resembling methamphetamine. Ivan is then placed under arrest for possession of a controlled substance (HS 11377). The officers search the vehicle after placing Ivan in the squad car, and only then retrieve the torch lighter. They also recover a loaded handgun in the back seat, as well as a scale and additional plastic bags. Ivan is charged with HS 11370.1 (possession of a controlled substance with a firearm) and HS 11378 (possession/transportation of a controlled substance for sale).

Additionally, Ivan is not a United States Citizen and would be deported if convicted of the charged offenses. Upon the advice of his immigration attorney, Ivan hires a Los Angeles Criminal Defense Attorney to represent him in this serious case. Upon reviewing the police report, Ivan's defense lawyer notices that the officer used seeing the torch lighter as justification for ordering Ivan out of the car, and the officer wrote that the torch lighter looked like a handgun. The defense attorney writes a motion to suppress, and argues that the officer knew that the lighter was not a gun. The officer used that as justification for an illegal search. The officer also subpoena's the video footage from the patrol car and a nearby gas station to show how the officer did not use any urgency to recover the torch lighter, indicating that he knew it was not something dangerous. The judge agrees and finds that the search was an unlawful search. The evidence recovered gets suppressed and the case is dismissed. Not only is Ivan no longer facing a possible prison sentence, but he will not longer face any negative immigration consequences.
If you have been arrested or charged with a crime in LA, call the Law Offices of Nicholas Loncar for a free consultation, and to find out what defenses might be available to help with your case.
Nicholas M. Loncar, Esq.
t. 323.803.4352 | f. 323.617.3838
www.iDefendLosAngeles.com
Nicholas.Loncar@iDefendLosAngeles.com
Sunset Law Building | 1295 W. Sunset Blvd
Los Angeles, CA | 90026
Published By:
Nicholas Loncar
| Written by
Nicholas Loncar